OK, well if you were reading my blog around Christmas time you know I was closely watching Joseph and Charlie from
Reece's Rainbow
. I am happy to say Joseph is close to getting home. His parents are also adopting a little girl named Zoya. She is also adorable. You can follow that family
here.
Their parents have been over in Ukraine now for several weeks trying to get it all worked out.
Then there is Charlie. The other half of that incredibly cute duo. He also has a family coming for him really soon. That family has also decided to adopt another cutie pie-- Zhora.
So these 2 cute boys have saved 2 other cuties. If they were adopted together what are the chances Zoya or Zhora would have been adopted as well? So it will all work out.
Anyway, the family that is adopting Charlie and Zhora (will be going by the name Levi) is SO close to finishing up their fund-raising.
Lisa, another mom, fell in love with Zhora and has been working hard trying to find a family for Levi and trying to raise lots of money for him. So once again she has bought an Ipod touch to give away in a drawing. To enter click on these button...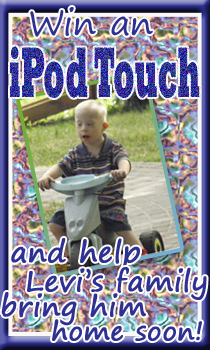 Click here for more
details!!
All donations are tax deductible through Reece's Rainbow.
Each $10 donation will enter you one time in the drawing for the iPod Touch.
$20 enters you twice and $25 enters you 3 times in the drawing.
All donations go directly to Zhora's grant fund
.
Ends July 24th.
You can follow Charlie and Levi's adoption blog
HERE.
I can't wait to see all these kids with their new mommy's and daddy's at HOME!